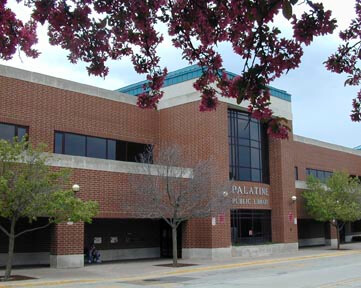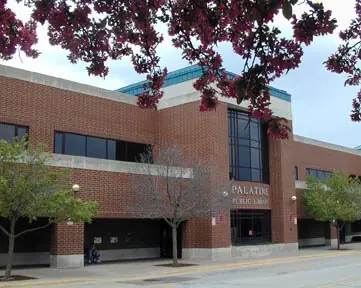 The mission of the Palatine Public Library District is to encourage lifelong learning and enrichment.
The Palatine Public Library District provides access to hundreds of thousands of books, recorded books, music and movies. The main branch of the library is located at 700 N. North Court, with two additional locations on Freeman Road in Hoffman Estates and on Rand Road, at the Palatine Opportunity Center. For complete details visit www.palatinelibrary.org.
Check out the newly renovated Business Resource Center & Makerspace!
How to Get a Library Card:
Bring proof of your residency within the district boundaries and agree to abide by all district policies and procedures. At least two forms of identification are required. Children under 14 must be accompanied by an adult when applying for a card.
As a Palatine cardholder you receive the benefit of the added value the library offers to the community. The library is a trusted resource for your leisure and information needs as well as a great place to meet people or pursue interests on your own.
Featuring:
Leisure reading: books and magazines
Audio visual materials: recorded books, music and movies
Quiet study rooms and common areas
Internet access and Wifi available throughout the library
Business resources: investment sources, business plans, resume writing, accounting
Online database subscriptions: Business Source Premier, Ancestry Library, Wall Street Journal
24/7 access: website, catalog, databases, My Media Mall
Programs for all ages: professional and personal enrichment
Meeting rooms: capacity from 20 to 125
School assignment resources: District textbooks, Curriculum Resource Center database
Convenient services: email renewal/hold notices, e-news, chat reference
Main Library
700 N. North Court
Palatine, IL 60067
(847)358-5881
Hours:
M-Th 9am-9pm
Fri 9am-6pm
Sat 9am-5pm
Sun 12pm-5pm
Rand Road Branch
1585 Rand Rd.
Palatine, IL 60074
(847) 202-1194
Hours:
M-Th 11am-7pm
Tu, Wed  10am-6pm
Friday 10am-4pm
Sat & Sun Closed
North Hoffman Branch
Willow Recreation Center
3600 Lexington Drive
Hoffman Estates, IL
Hours:
M-F 11am-7pm
Sat 9am-3pm
Sun Closed